SERIAL CONTROL
in this section I got the info from www.christmascave.com
( christmascave.com was purchased by animatedlighting.com )
a good place to look for the serial controllers is www.lightorama.com
this units can be stand alone or computer controlled.
(I now use these and am thrilled with them)
serial controller
The following is a typical setup for serial control: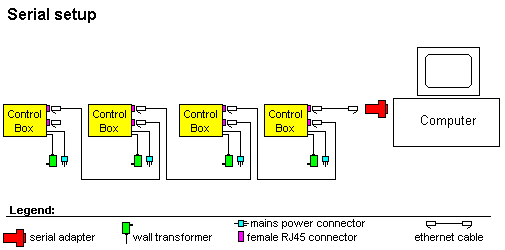 The serial adapter converts the RS-232 port in the back of the computer from a DB9 connection to an RJ45 connection. Standard straight-through ethernet network cables are then used to connect all of the control boxes together in a daisy-chain configuration. The mains power connector provides power to the SSR's or relays located inside the control boxes. The wall transformer is what powers the microprocessor inside each of the control boxes.
schematics:
The following is a typical schematic for a Serially-Controlled Control Box (SCCB):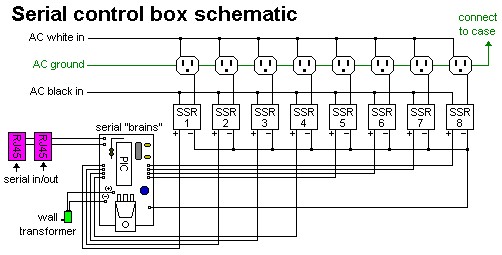 Above shows 1 x brain board, 1 x wall transformer, 1 x SCCB microprocessor, 2 x female RJ45 connectors, 8 x SSR's, 8 x AC 120v electrical outlets.